Discover more from Acquire Websites
Content site deal flow from the main marketplaces. For website investors and builders
Over 2,000 subscribers
🆕 Content Site Picks on Flippa with Upside Wins
Only one content site pick with upside to feature this week but I've been using a great new product for niche acquisition research…
Every week I pick new content sites and media property listings on Flippa that meet my criteria and have upside available, from three different revenue buckets. If you haven't already, you can subscribe below:
Thanks for reading Acquire! Subscribe for free to receive new posts and support my work.
Since last week, there were 35 new classified listings (ones with an asking price, not auction listings) for content sites on Flippa earning > $100/m with verified traffic (GA integration):
Small content sites ($100/m to $500/m in profit) - currently 41 listings, 22 new listings
Medium content sites ($500/m-$5K/m in profit) - currently 84 listings, 12 new listings
Large content sites (over $5K/m in profit) - currently 19 listings, 1 new listing
However, there is only one that passes my criteria.
Before I get to this week's deal, I've been playing around with the new Niche Site Metrics by Ian Nuttal, to find ad-driven sites with a ton of traffic and low domain rating, i.e. less competitive niches where it will cost you less in links to scale revenue: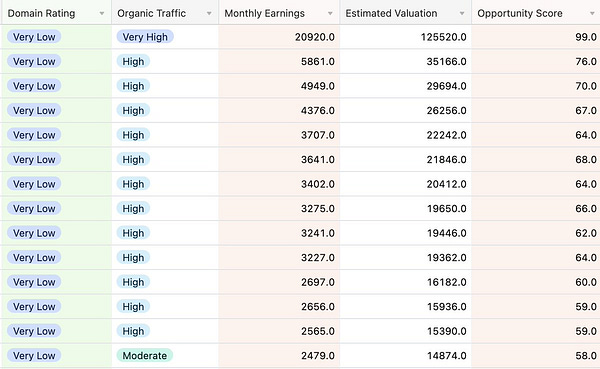 At $147 I recommend you pick up a copy before Ian raises the price (Ezoic, Ad Thrive and Mediavine sites are currently in there, other networks being added soon).
---
This Week's Picks
Please view this as initial screening - I am not recommending you should acquire these assets. Do you own due diligence and/or buy DD on Flippa or Centurica.
For my criteria and terminology see this post.
If you want further assistance with your acquisition, you can book a micro-consulting call with me on Clarity, details at Acquire.gg.
As a Flippa affiliate, I earn a % of what Flippa earns from listings sold.
---
Revenue-generating websites making $100-$499/m in profit
Nothing new I can pick that meets my criteria this week.
---
Revenue-generating websites making $500-$4,999/m in profit
Listing Description: "Verified Listing Gbapps.info is a 2.5-year-old site that offers application-related content. All content uploaded on the site is 100% unique. The site has good RPM around $6-7."
Search Traffic
Interesting one this…
According to Semrush, search traffic has been massively trending down over the last year to 7870 sessions on August 24th. The seller states he neglected the site.
But then the next day the 25th August helpful content algorithm change happened and Semrush shows that traffic rebounded to 24,377 sessions, and is now over 40K/m!
The top page brings in < 7% of all search traffic so no page-level dependency here:
Content Analysis
The quality of the content on the pages I've looked at, such as the top search page, is (in my opinion) very low quality, and there are 10 results showing in Copyscape for it which you'd need to look into. There's a huge 4000 pages in the google index.
Backlink Analysis
Referring domains have been falling since the summer so will need to ask about this, but anchor text looks natural with mainly brand / URL and empty anchors (most typically image links).
Upside Wins
Content audit to reduce index bloat (4000 pages)

Improve website design (although try not to bring down the epic speed score!)

Add EAT such as author boxes, about page, social profiles

Look for ways to add affiliate revenue (product links, exit pops etc)
Valuation
Search traffic looks to have recently come back, but the monthly profit on Flippa is based on the last 12 months, whereas last month the seller states the site made $295 from ads (and that they have not tried with affiliate). This would put the monthly multiple at 56x based on the asking price. However as traffic is increasing, October revenue is likely to be higher, so the multiple starts to become more reasonable at that point.
---
Revenue-generating websites making over $5000/m in profit - job replacement income.
Nothing new I can pick that meets my criteria this week.
---
🗣️ Patey Recommends
Here are platforms, services and products that I have personally used or know the founder/team and can recommend.
Flippa - the largest marketplace for buying and selling websites
Odys - premium aged domain marketplace
Namecheap - where I hand register web2 (and now web3) domains
Centurica - premium due diligence services
Content at Scale - one click AI content that's good enough to publish
Human Proof Designs - buy ready made sites and a whole heap of operational services
WorkHero - managing wordpress sucks, use WorkHero so you don't have to
Niche Site Metrics - find low competition niches based on actual data
---
That's it for this week's content site picks. If you've not yet subscribed here's the CTA for you:
Thanks for reading Acquire! Subscribe for free to receive new posts and support my work.
And come follow me on twitter or book a micro-consulting call with me.
Cheers!
Richard
Important Disclaimer: Not financial, investing or tax advice. This newsletter is strictly for information, entertainment and education purposes. Nothing in here is investment advice or a solicitation to buy or sell any assets or to make any financial decisions. This newsletter is not tax advice. Talk to your professional advisors. Do your own research. This newsletter is monetized through affiliate links and sponsorship.